I have been really sick like for a week or more I can't seem to shake it so I guess its time to call the doc and yet still I have to babysit and do everything else jeesh it would be nice to have a maid lol I heard birds this morning and spring is just around the corner I am tired of the snow My daughter took some pics of her dolls yesterday so figured I would share....
I have not been on in forever and I can say I have been busy and my other computer died both of which is very true it just sounds so lame jeesh............so I have been crafty at least here are some of the things I made for christmas presents.......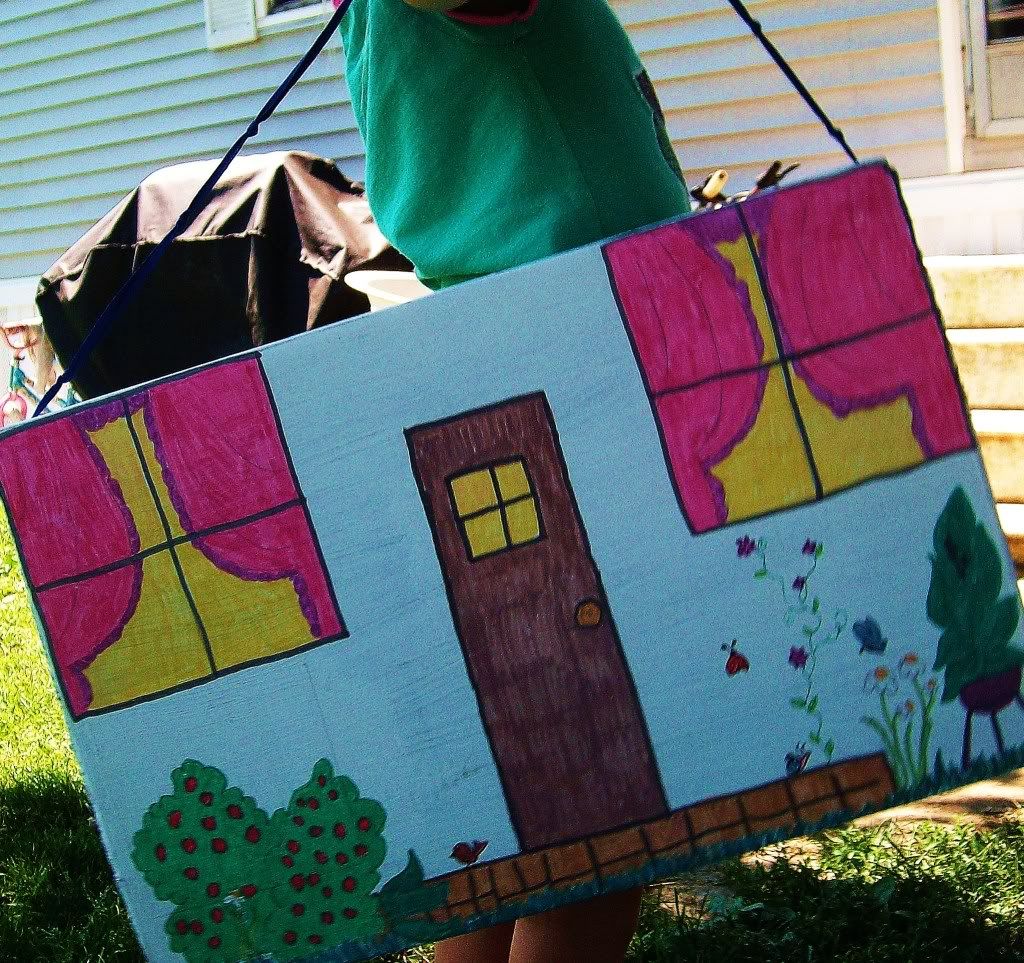 this little house was inspired by the 1962 Barbie dream house, the original dream house this has been floating around in my brain for awhile and I finally got around to making it and the tutorial if you decide to make one please let me know I would love to see what you make!!!
the 1962 Barbie dream house
what you need:
one laptop box around 16 to 18 inches
white paint
glue gun and glue
knife of some sort
paintbrush
markers paint or what ever you want to decorate it with
string or rope or something of that nature
Velcro if you have a box that don't have the little tab that closes it
pencil and ruler to measure and sketch your design on ( I only really used the ruler to draw straight lines and space things as evenly as possible)
directions:
1. the first thing I did was inspect the box to see how I wanted to approach the way the front flap folds out with my box there were little tabs on the sides and I cut them off first because they were not needed and set them aside then I cut where I drew the crappy red lines lol sorry but my hands are pretty shaky once you have that done you can see the inside of your box much better if its like mine you will need to reinforce the floor where it is put together that is where all the extra cardboard from inside comes in handy :) you will cut a piece to fit and glue it securely to that area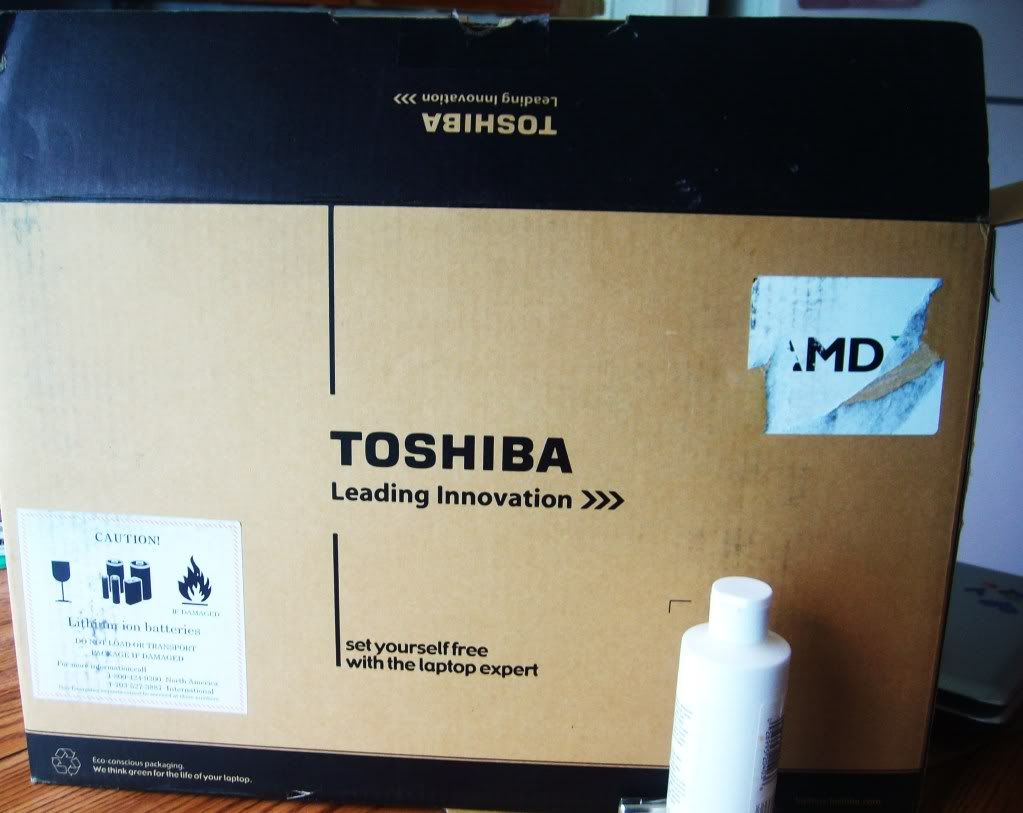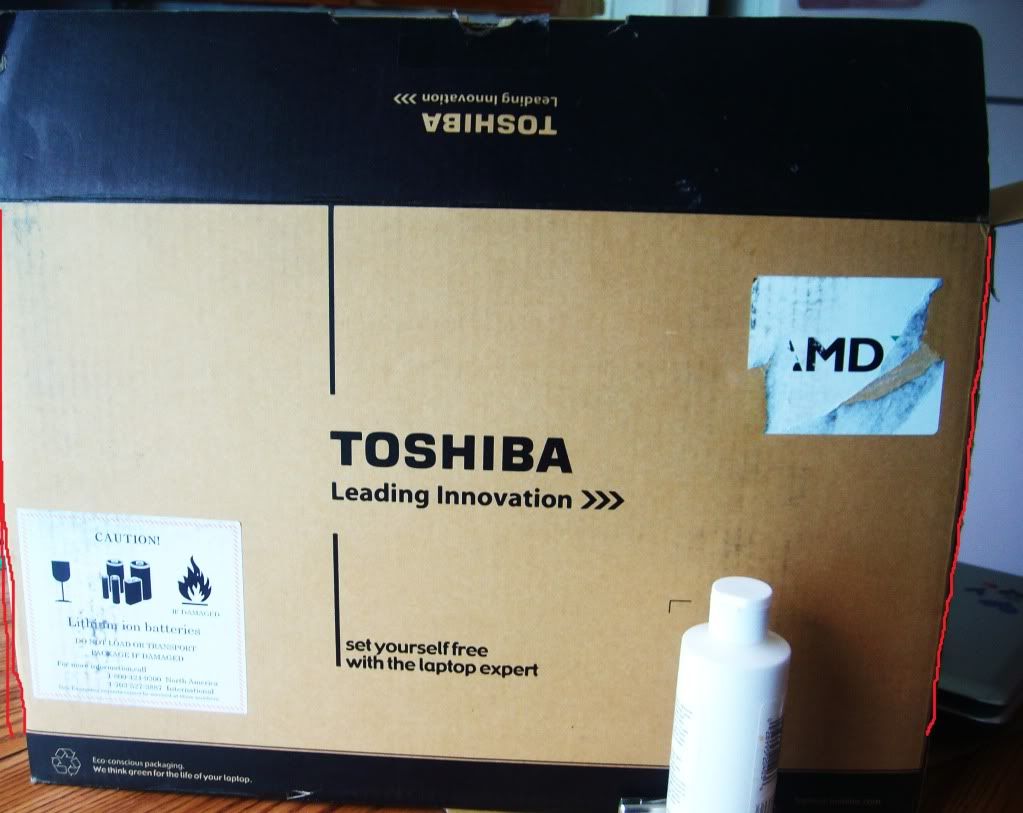 2. then you should peel as many stickers and stuff off of it as you can without damaging the box then paint the whole box white this is what will take the most time because you want it to dry in between coats I use whit because it is a nice clean starting point once that is done and dry you are ready to decorate I pretty much drew everything by hand pulling it from my imagination but there are so many ways you can decorate it when you get to this point so make it your own and be creative then I colored everything with crayola markers so have fun with it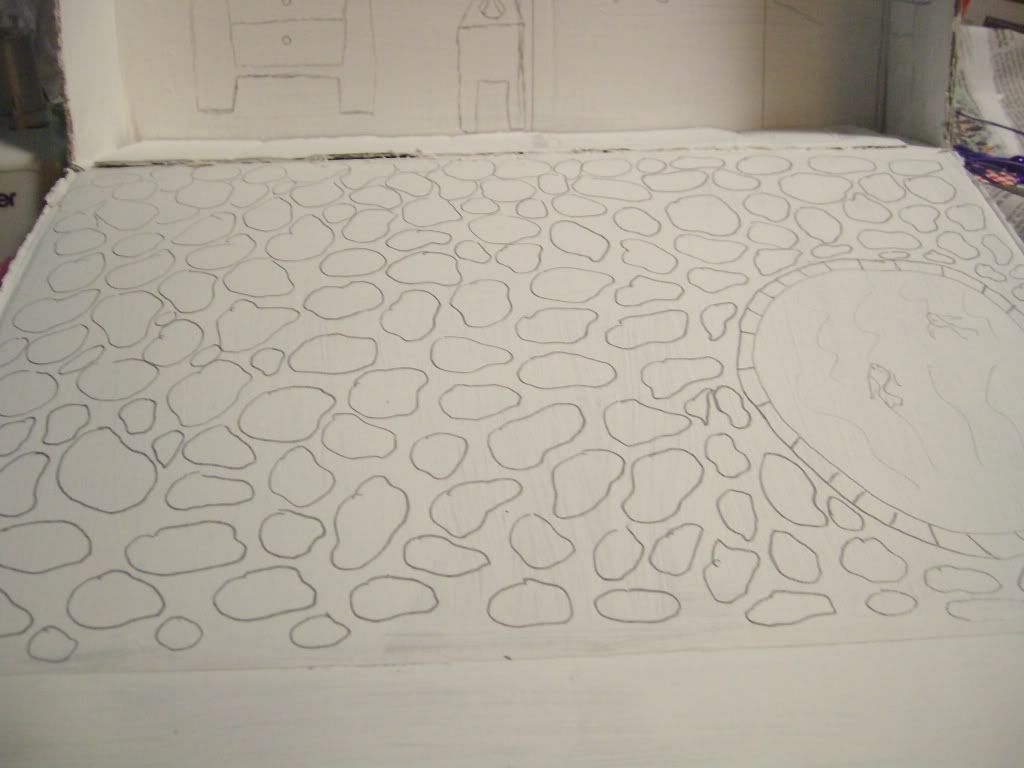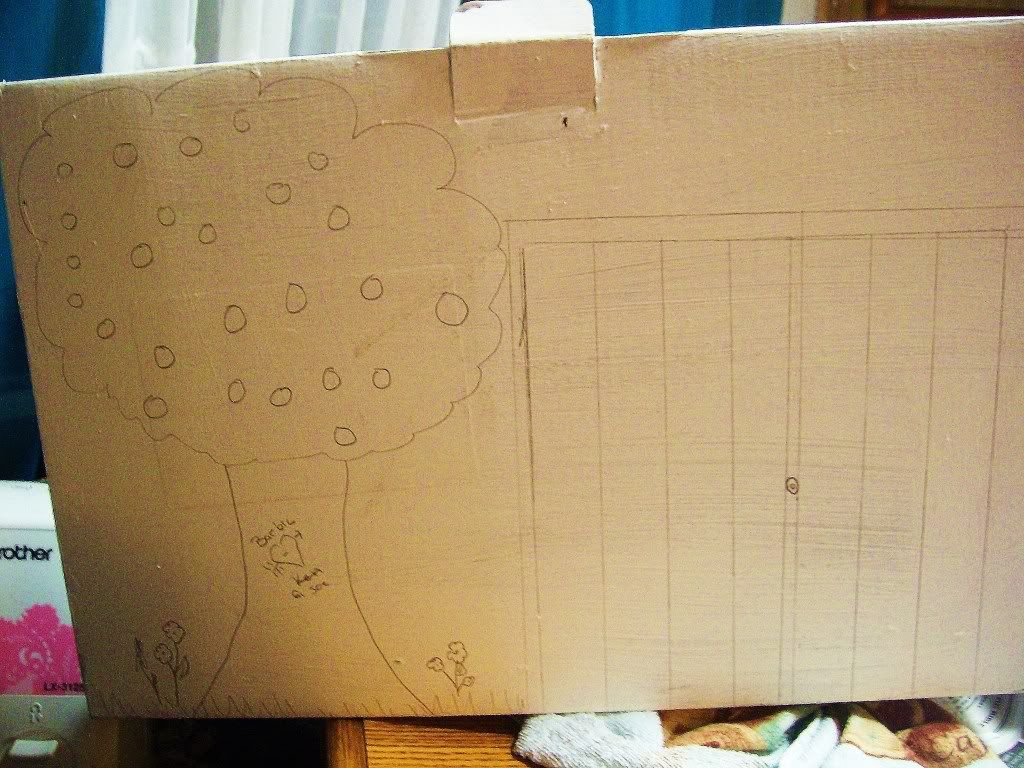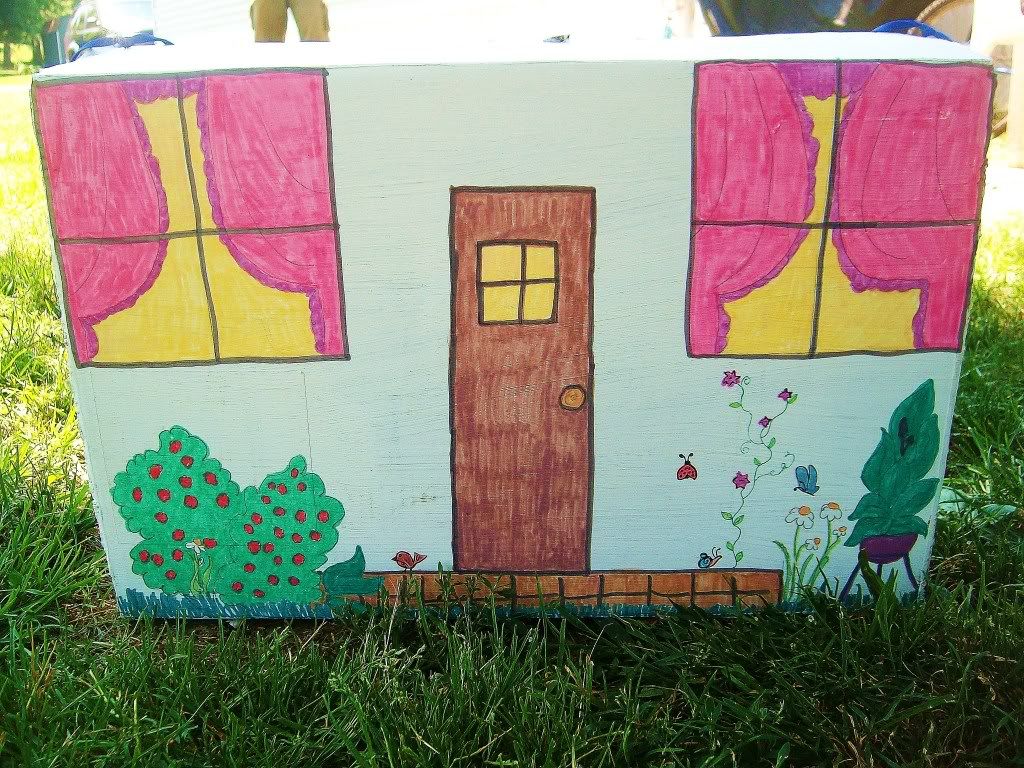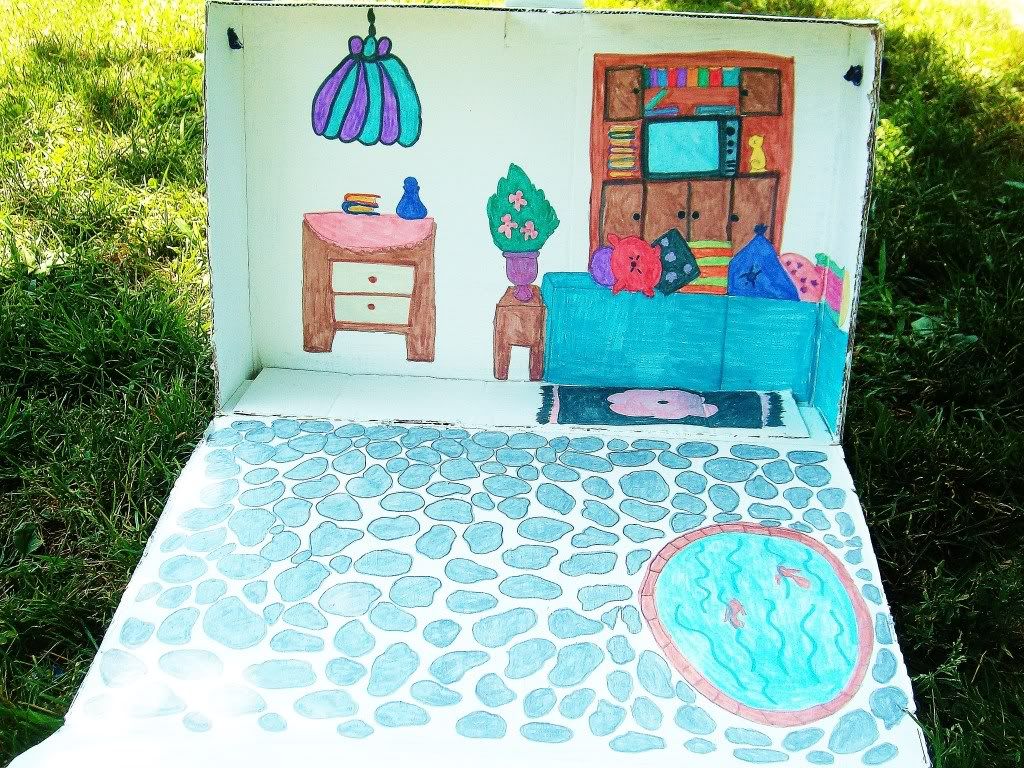 3. after I did all that which took me awhile I tell ya then I cut a string long enough to hang from my daughter's arm comfortably without being too long tied a knot in each end and poked a hole in each side making sure the house hung evenly I pushed the knot through the holes and secured each knot inside and out with hot glue just to make sure it was strong and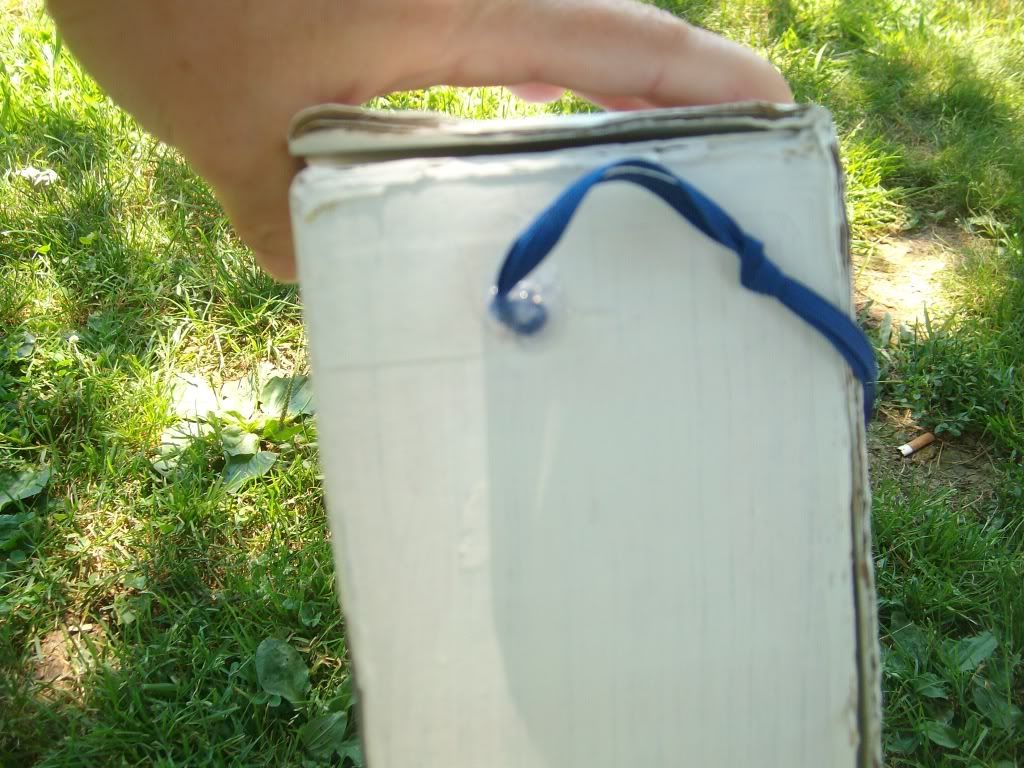 4. now if you want you can cut off the little closure flap thing and attach the velcro to the underneath and the top where it would close so it holds it securely I had that as an after thought once I had finished it lol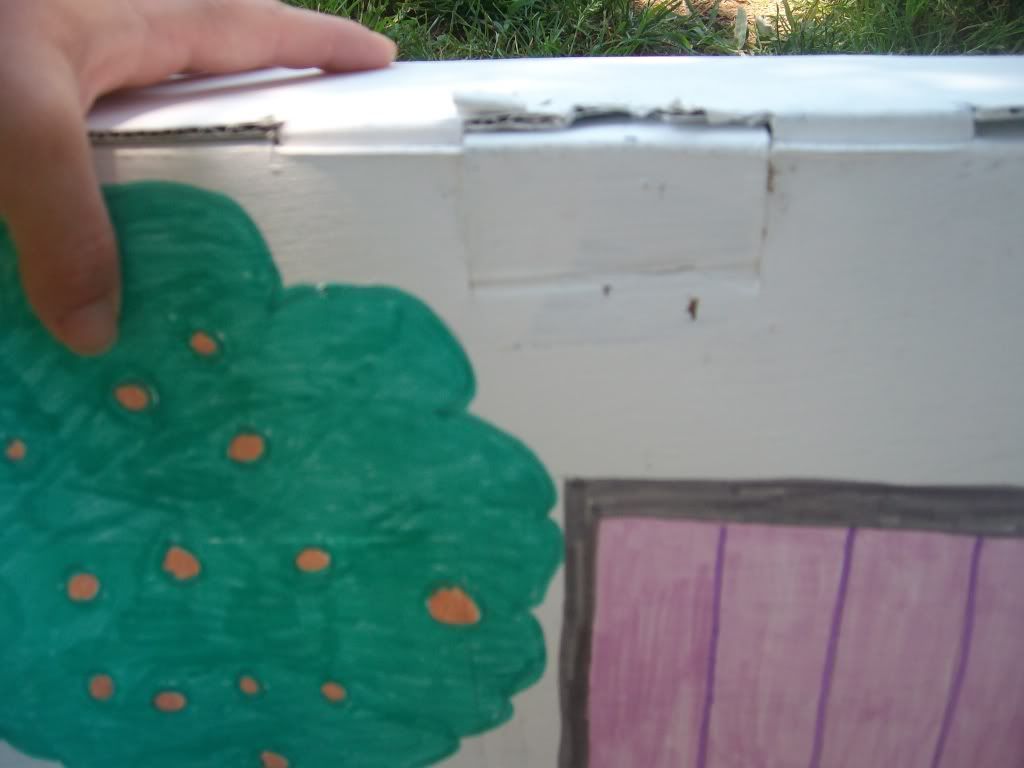 That's it you have a portable house for barbie when you are done my little one loves it I didn't get any action shots of it but I will I am actually very amused with this one not only did I create a great toy for Mazzy but I also recycled a good bit and saved one more box from going to the landfill yeah!!!
Barbie travel house (C)mjr2011
Current Mood:

accomplished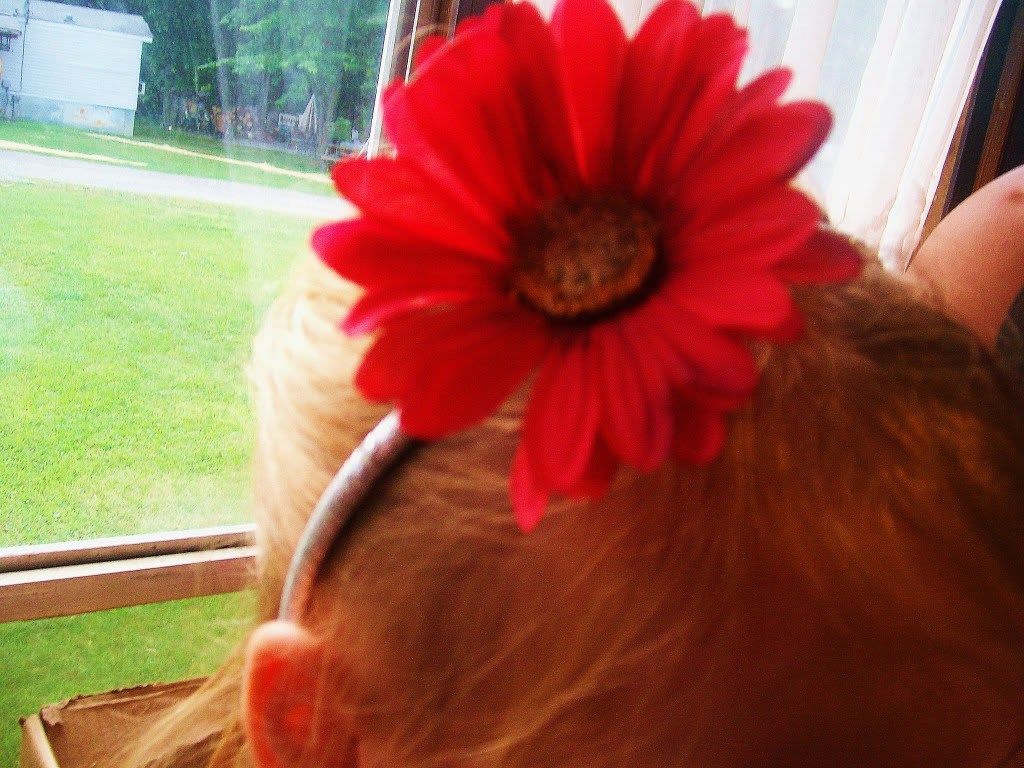 materials:
glue gun
ribbon
skinny headband
flowers
felt
scissors
instructions:
glue the ribbon to one end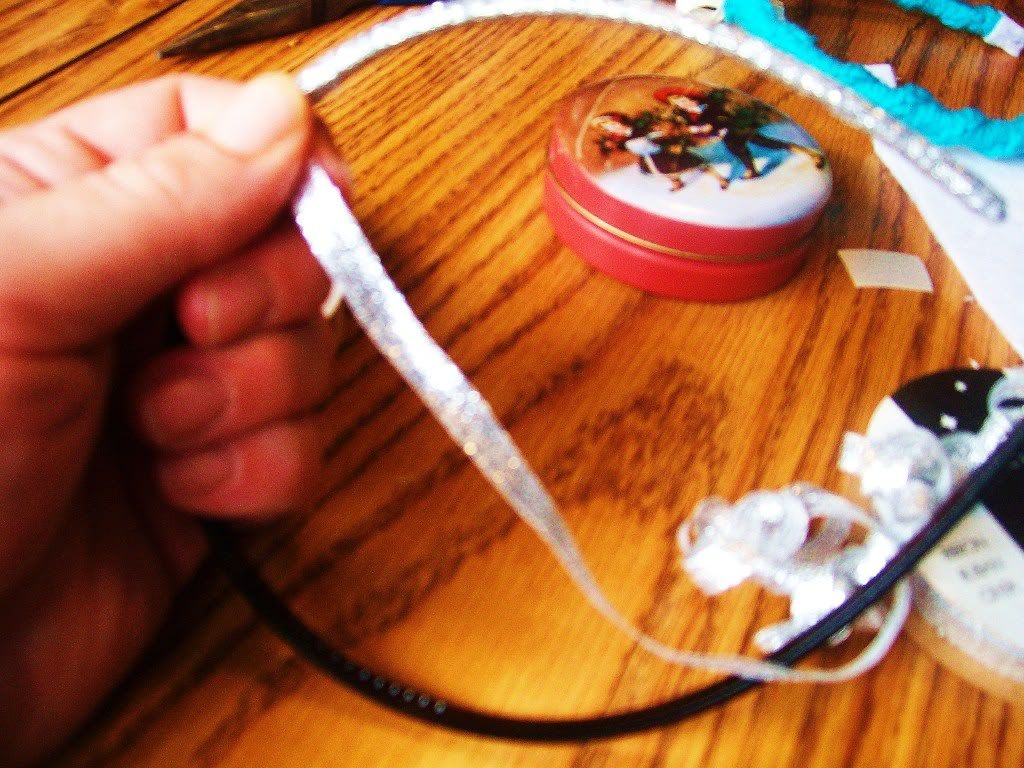 wrap the headband till the whole thing is covered
cut felt to fit the ends covering the ends of the headband and ribbon this makes it look better and more finished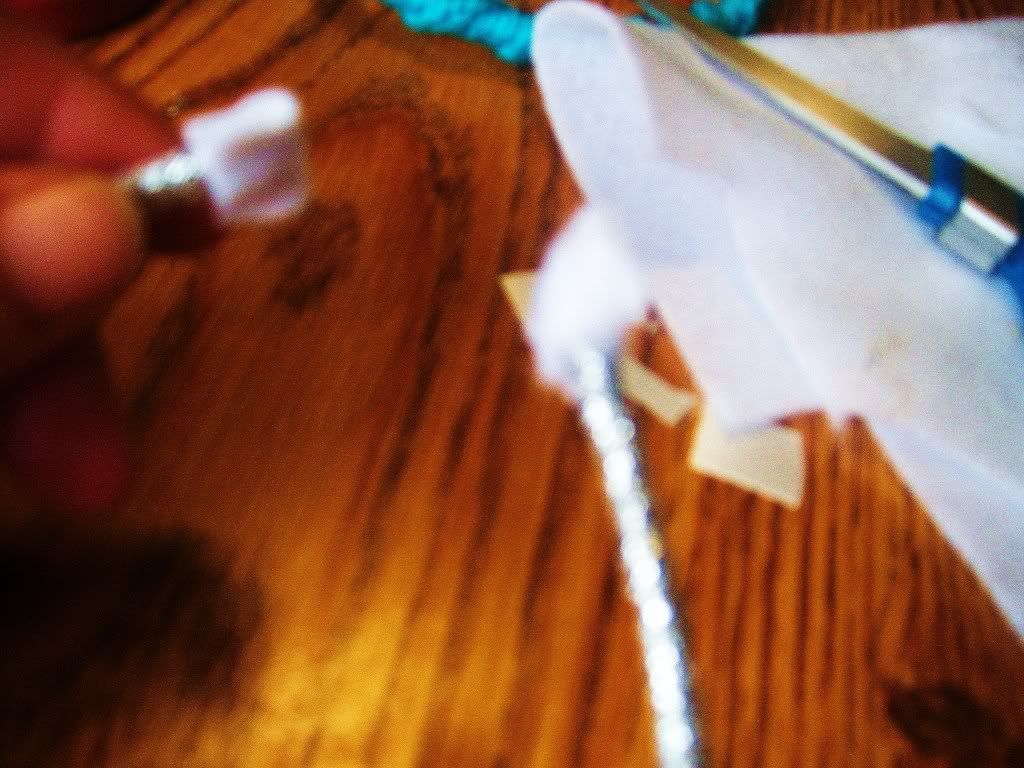 glue your flower on you might have to trim the plastic piece so it lays better and you might have to glue a piece of felt to give it more support so it will stay on better like I had to with the bigger flowers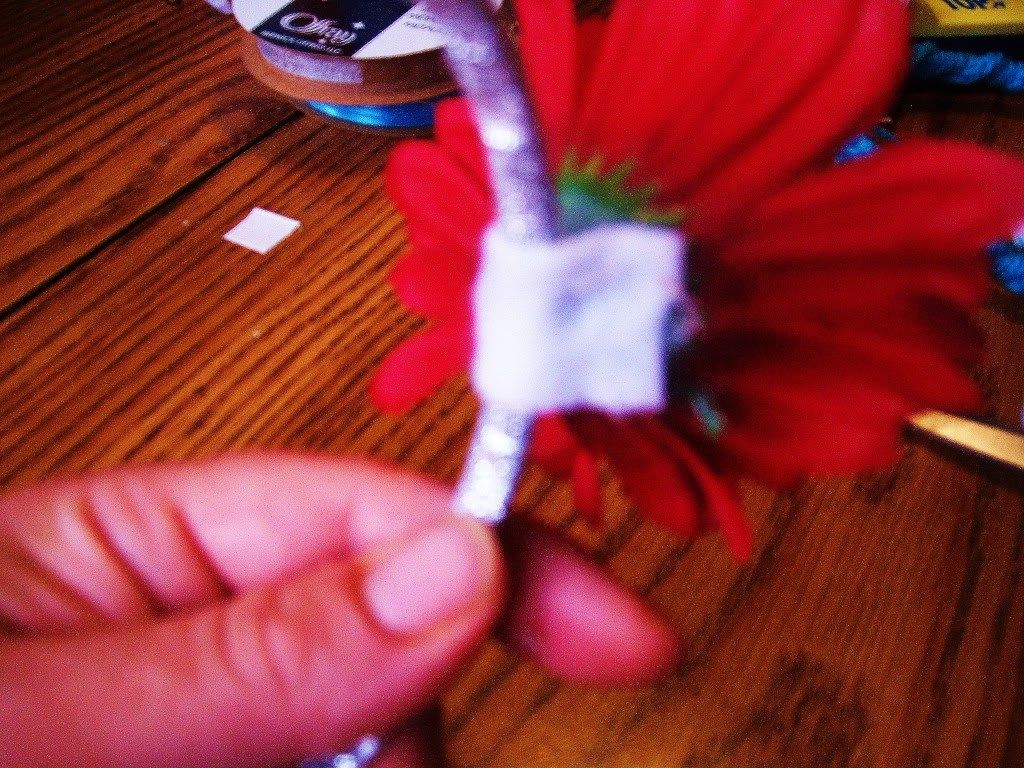 enjoy the smiles your little girl will give you as with my other tutorials if you make something from them let me know I would love to see it:)
this is super easy and pretty quick too
materials:
skinny headband
yarn in whatever color
felt to match
size G crochet hook
glue gun
pattern:
tie the yarn onto the headband or join with a slip stitch single crochet around and slightly twisting to get the twisted effect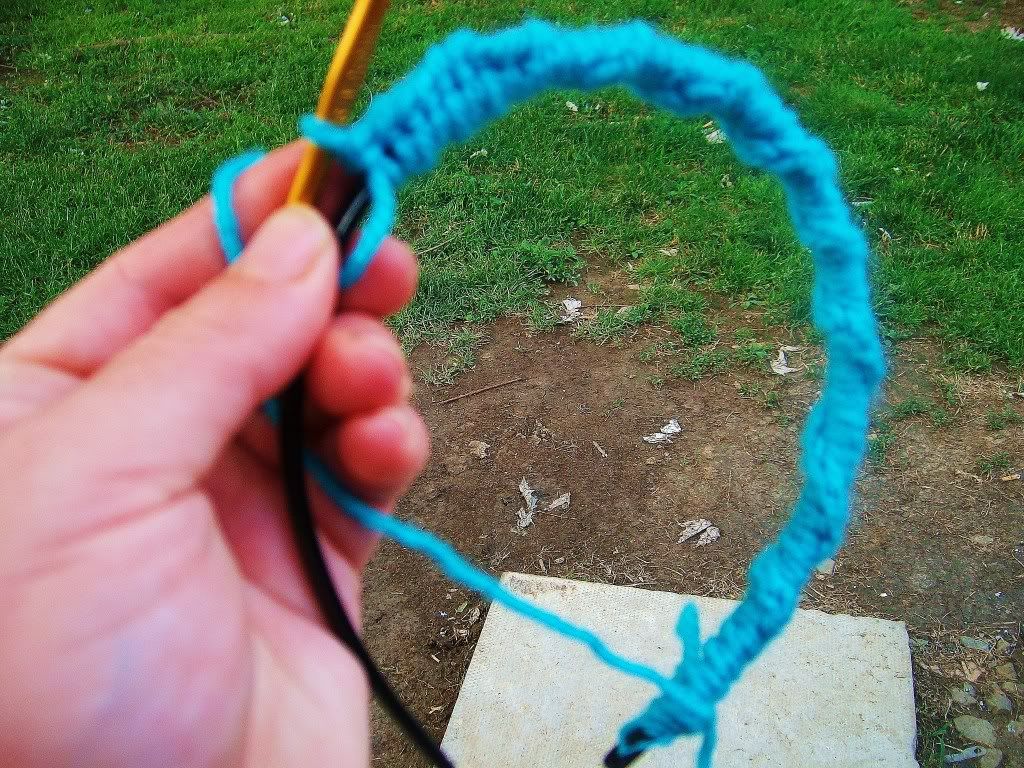 I did not count stitches I just crocheted to the end and tied off then cut 2 rectangles of felt to cover the ends not only to keep the stitches on but also to make it look better that's all there is it took me about 20 mins to finish:)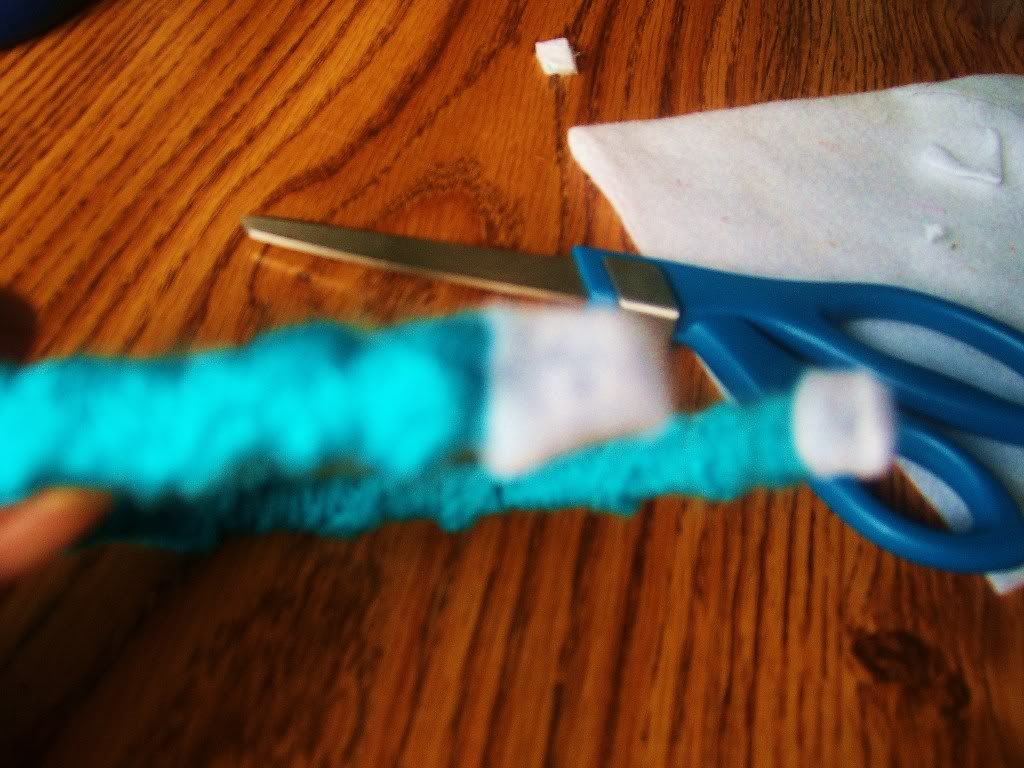 This is a pretty easy tutorial make sure you use a skinny plastic or metal headband that is the most important thing
Current Mood:

accomplished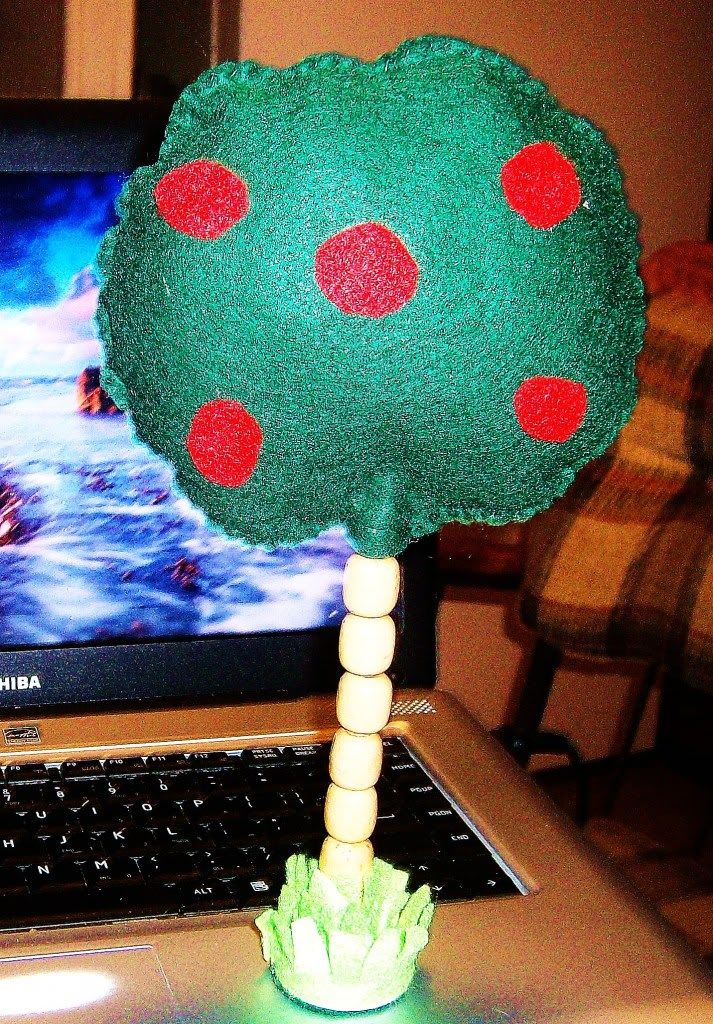 little felt tree
materials needed:
felt whatever color you want your tree
needle and thread to match
stuffing
wood beads to fit over dowel rod
3/16 inch dowel rod 6 in long
(I bought both at walmart so look there)
glue gun with glue or fabric glue
lid from a medicine bottle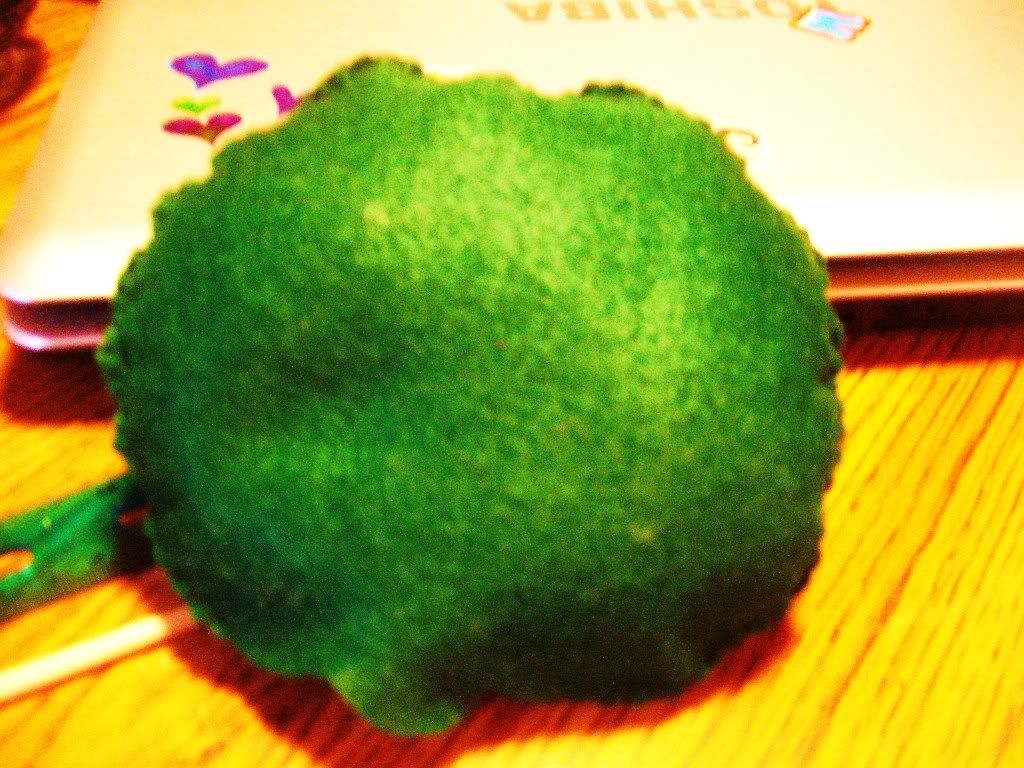 1. draw a simple tree shape about anywhere from 4 to 5 inches around but not any bigger because I do not know if the tree will stand then lol
2.cut out the pattern and cut 2 of the shapes from felt
3.stitch around leaving a small opening so it can be stuffed
4.stuff and set aside for a minute while we construct the trunk
5.take a bead slide it on the dowel rod glue it in place then slide more on to the top glue the top one in place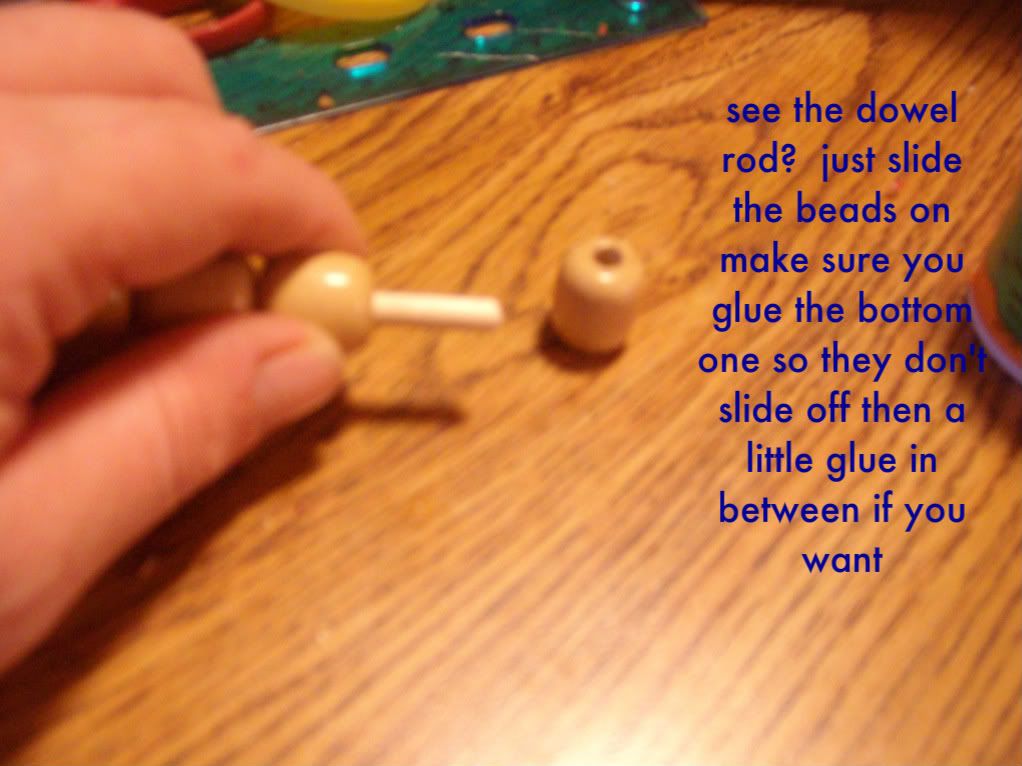 6.glue the bottle cap to one end I glued the trunk to the flat side because mine had a child proof thingy in it and it stands better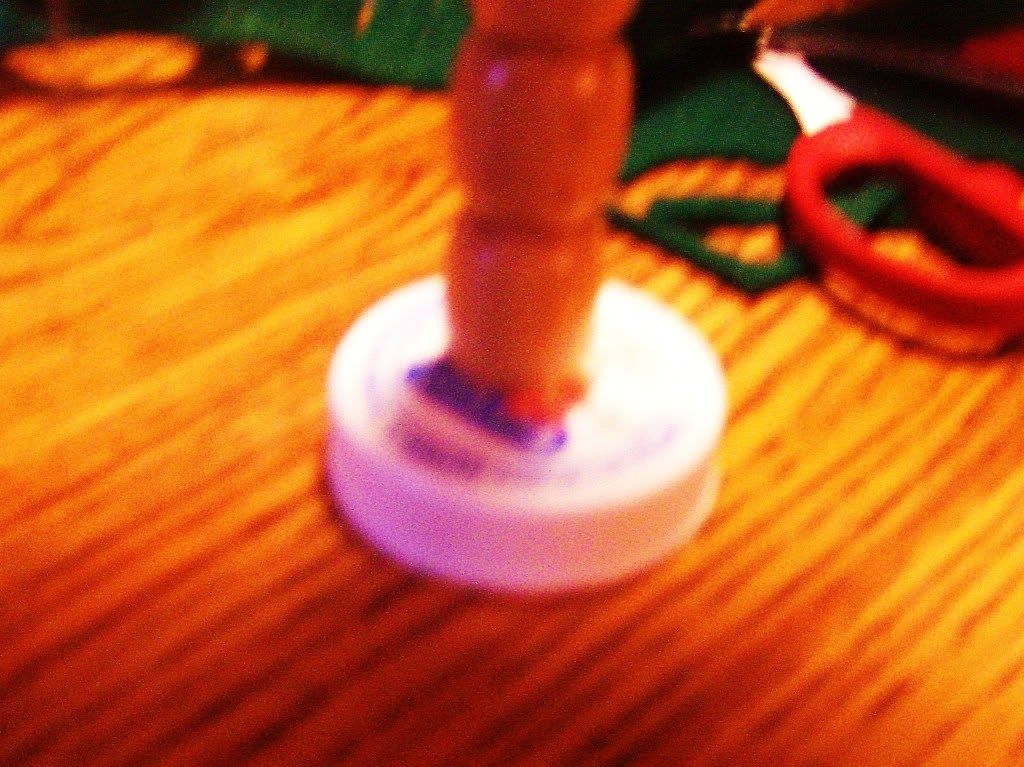 7.glue the other end into the top of the tree try to stuff it in so it's not floppy
8.glue it or sew the tree shut it should stand now
9.I just cut some felt to look like grass and covered the cap
10.you can add apples like I did if you want I am working on another one that has flowers on it there are endless possibilities for this little tree you could embroider the apples or flowers on you could use any color felt have fun and let me know what you make with it :)mikey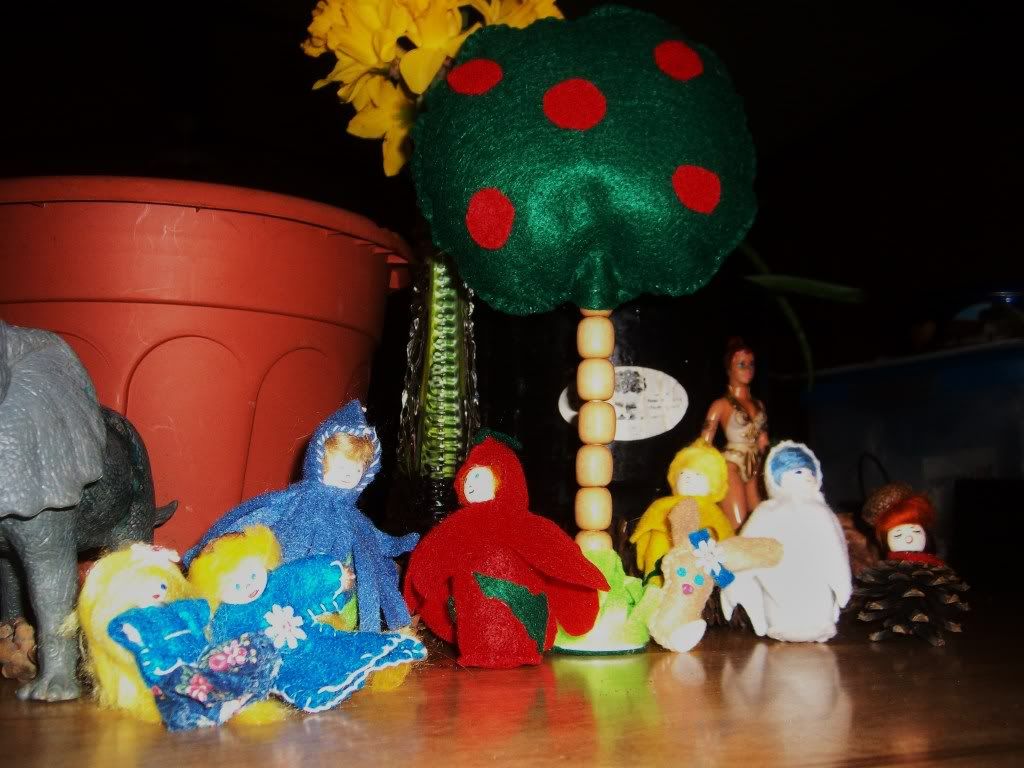 here's the tree in action on the nature table lol I decided to make one because my daughter wanted to collect stuff then I started adding to it with little dolls I made and stuff now it's become an obsession wish I had known all this stuff when my son was little lol
This little tree was created because my daughter wanted some play trees for her critters and dolls so I made a tutorial while I was at it if you make one let me know I would love to see it!!
Current Mood:

accomplished
****************************************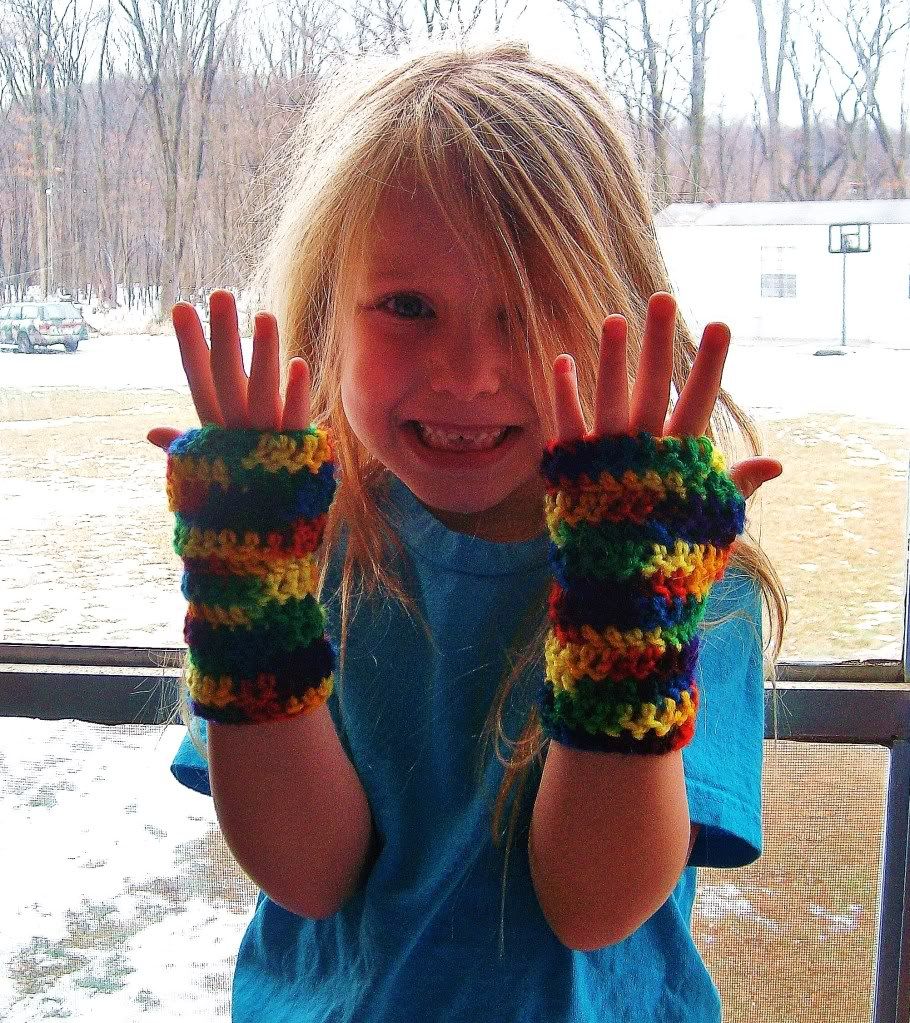 *this pattern cam about because I searched the internet for a handwarmer pattern or armwarmer pattern for little girls and came up with only 1 which did not suit my needs my Mazzy is always cold and her little hands are like ice she needed something she could wear that would keep her hands warm but let her do schoolwork and such so I came up with these she loves them and they are so simple to crochet this pattern will fit a little girl or boy if you use other colors age 4 to 7 depending on their hand size remember this is a free pattern respect my rights and do not claim it as your own you are free to make as many as you want and if you sell any give me credit for the pattern thanks :)*
Mazzy's handwarmers
*******************
materials: yarn of any color this pattern won't use a whole skein, crochet hook size F, scissors, and super glue just for making the knots sturdy when you are done I just dab a little on the knots and blow it dry cuz my kids are very hard on things and that helps keep the knot secure
skill level: easy beginner must have basic crochet skills
(you make 2)
foundation row: chain 19 turn sk 1st ch dc in each stitch to end ch 1 turn
row 1- 12: **dc in each st down to end ch 1 turn** (repeat row 12 times)
finish: tie off dab on glue if you want make sure all stitches are secure weave in ends fold in half so stitches are going across instead of up and down stitch or crochet together leave hole for the thumb you can single crochet around the hole to make it stronger if you want tie off weave on ends
***I will do another small tutorial later for different styles and embellishing so you can see how to make them unique to your child's taste and I will give you different sizes too***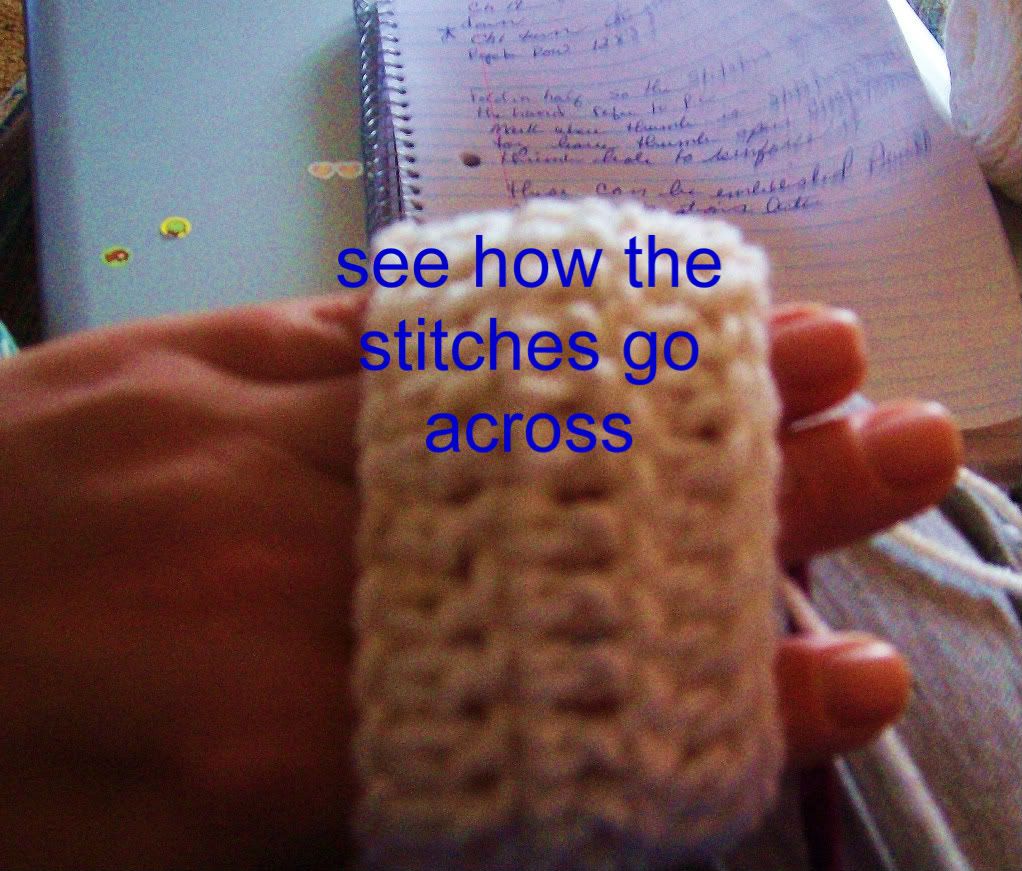 very simple handwarmers for little girls
Current Mood:

accomplished
(this came about because my friends grandson needed something warm for his little hands and every pattern I tried looked funny so these are simple and quick you are welcome to use them whatever way you like just remember the rules this is a free pattern do not claim it as your own and if you want let me know if you make them I will visit your page and check them out;) enjoy!!)
ch 15 sl st in first chain to form loop
row 1: ch 3 dc in each ch around sl st to top of ch 3 (15 stitches)
row 2: ch 3 **1 sc 2 sc** repeat in each st till end sl st to top of ch 3 (21 stitches)
row 3: ch 3 dc in each stitch around sl st to top of ch 3 (21 stitches)
row 4: ch 3 dc in each stitch around sl st to top of ch 3 (21 stitches)
row 5: ch 3 dc in each st around sl st to top of ch 3 (21 stitches)
***This next row I just kinda winged it you will keep going till the hole is closed or you have 1 or 2 stitches left to close it off if you have any trouble let me know and I will help you out since its kinda sketchy***
row 6: (closing row) ch 1 **sc skip 1 sc1 skip 1 sc1** repeat this until hole is closed tie off work in ends
At this point you can stop if you want or are someone who would rather have baby mitts without strings but here is the optional string pattern if you want to put it on
to attach a string
sl st to top of mitten somewhere hidden ch 65 (you can go shorter or longer I like 65)
sl st to top of other mitten sc back across in each ch tie off work in ends
**you do not really have to do this second row but I like to because it makes it softer and less like a string**
My son also shows another use for the baby mitts they can be ear warmers :)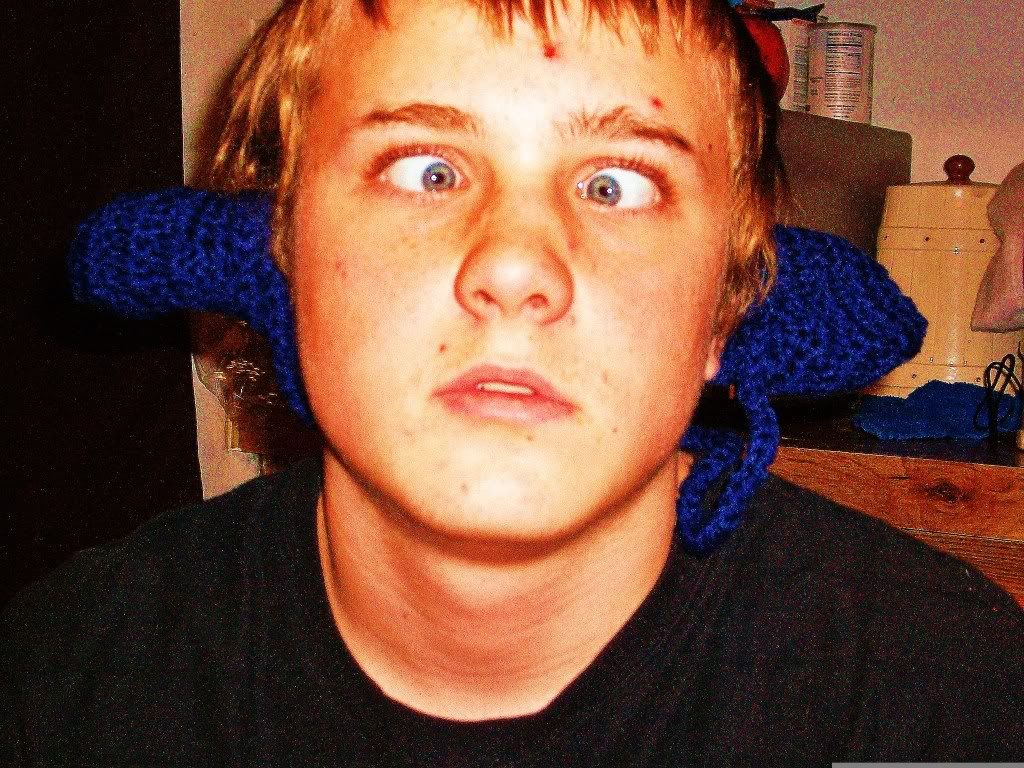 Baby Mitts Pattern (C)MJR 2010
Current Mood:

amused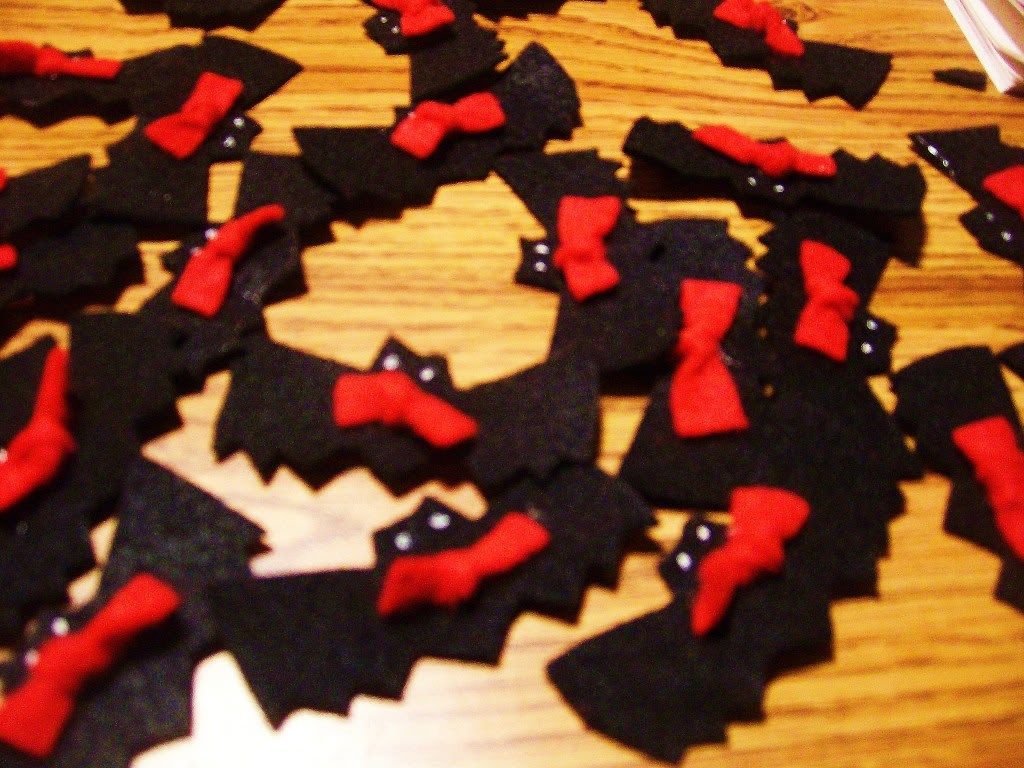 So I made some felt bat pins for Mazzy's Halloween party at school to put on her treat bags and thought I would do a tutorial so anyone who wanted to could make some........
Materials needed:
felt (I used red and black)
scissors
glue gun (tacky glue could work too if you want this to be a total kid project)
safety pins for pins or barrettes for hair clippies
white paint and paintbrush or googly eyes (I didn't have any)
first you have to cut out the bats out of the black felt I provided a pattern but if you draw better than me lol then you can whip up your own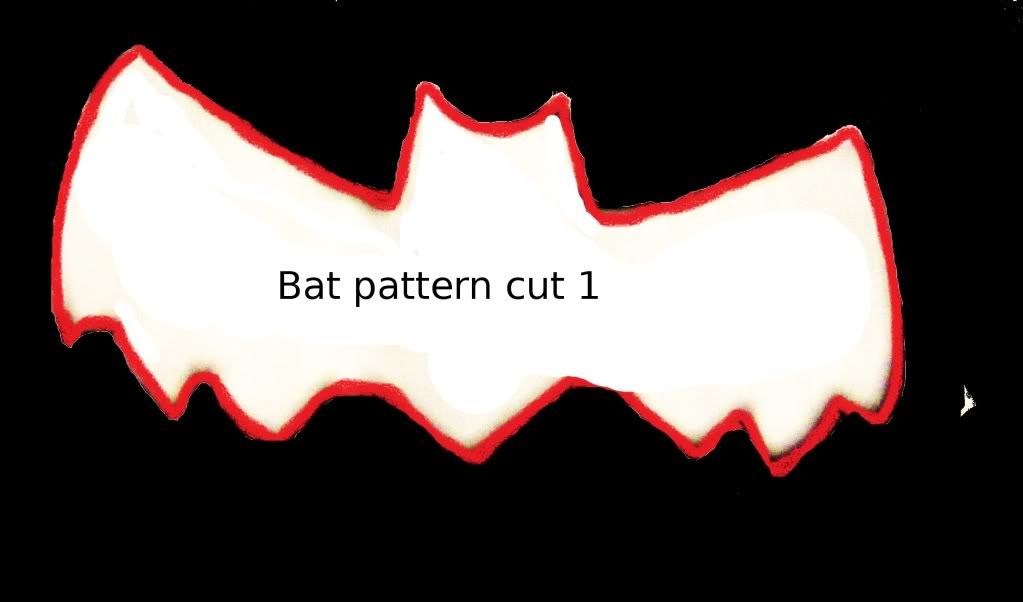 so now you have an army of bats....(I wonder if these little guys can be called an army of darkness?)
then you cut out your bows I cut strips about 1/2 to 1 inch I don't usually measure
you tie a small knot in the end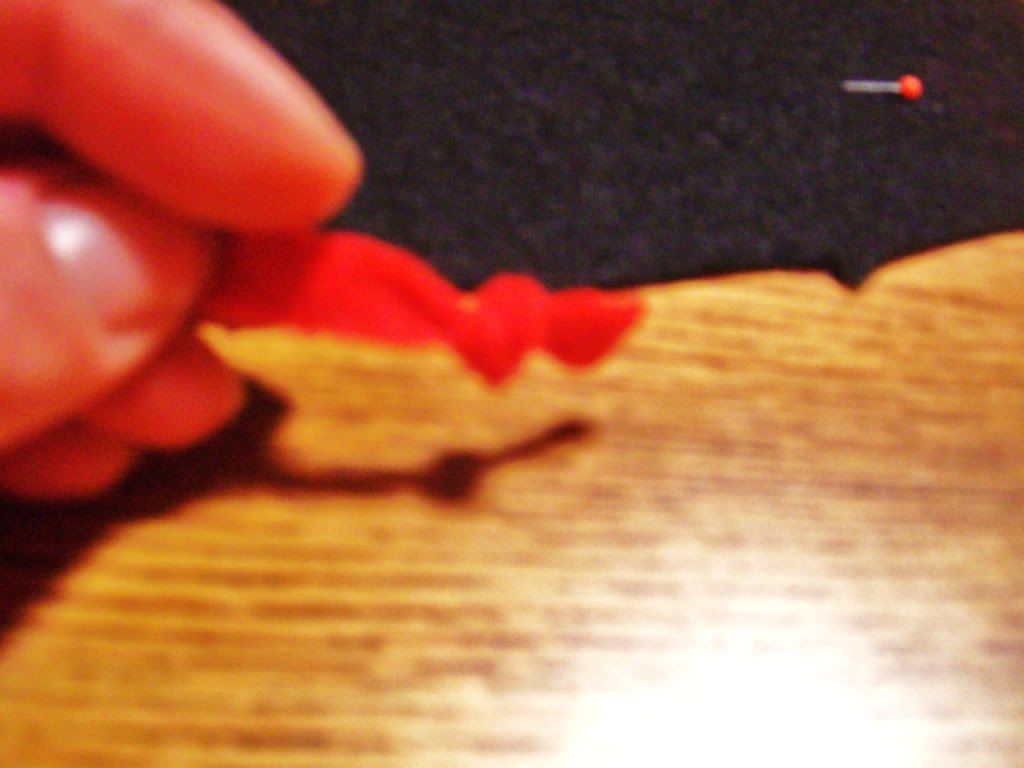 then you cut it as even with the other end as you can I usually eyeball this
you cut as many bows as there are bats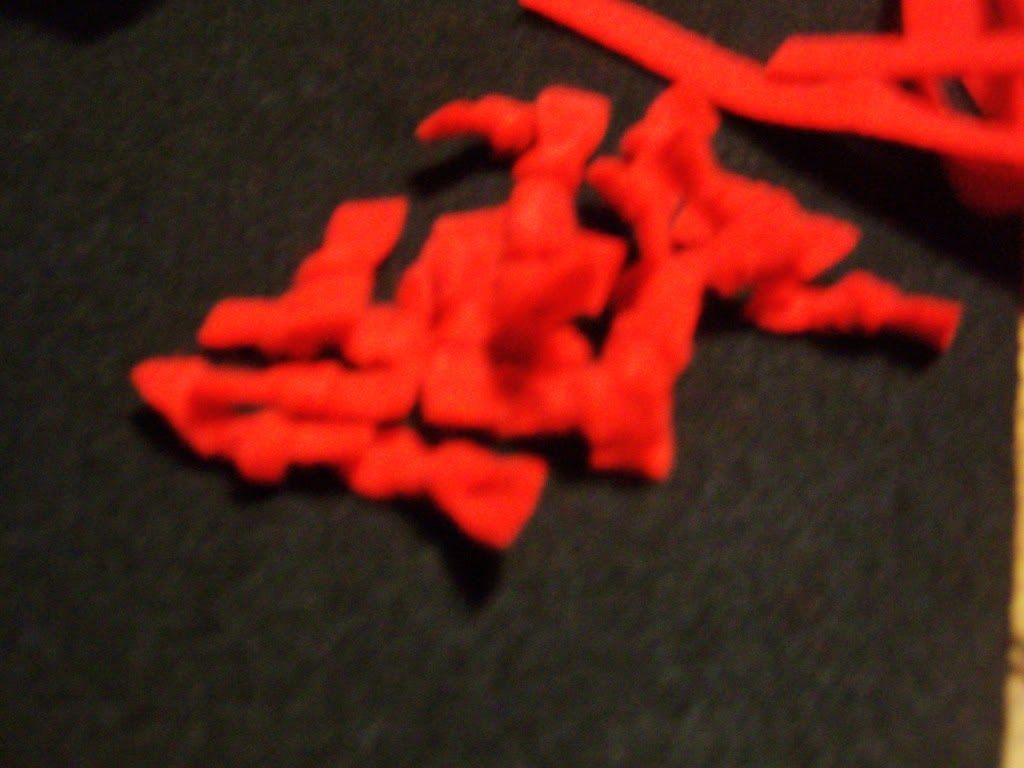 then you hot glue the bows to the bats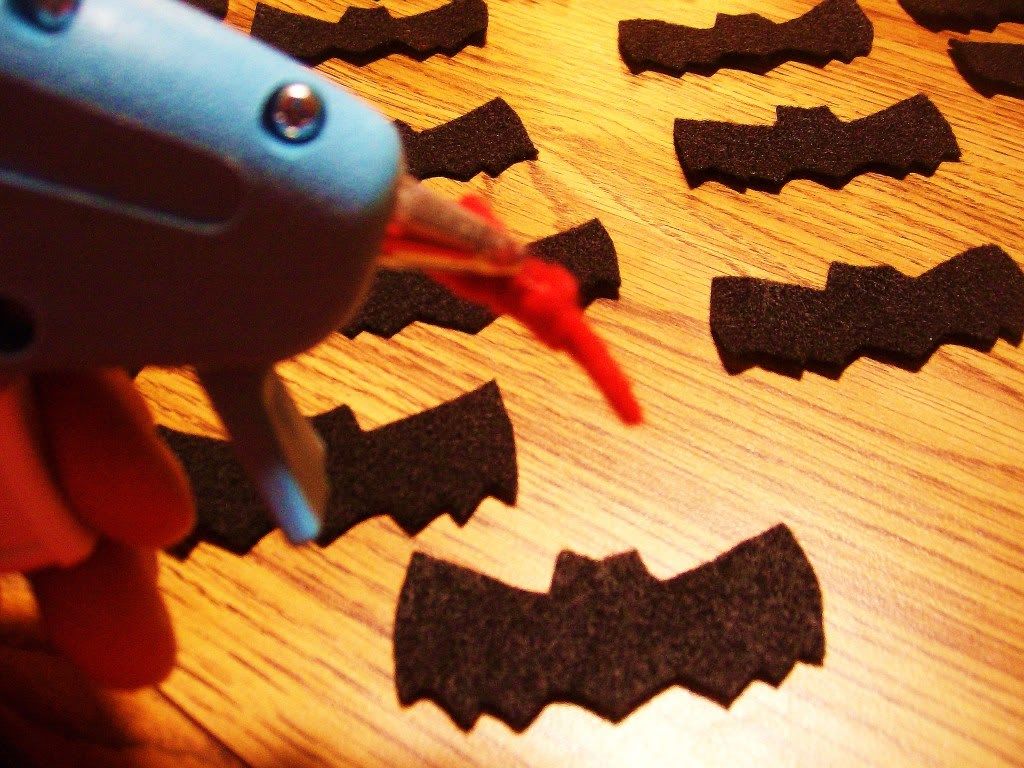 see now they all have little bowties
then you hot glue the barrette or safety pin to the back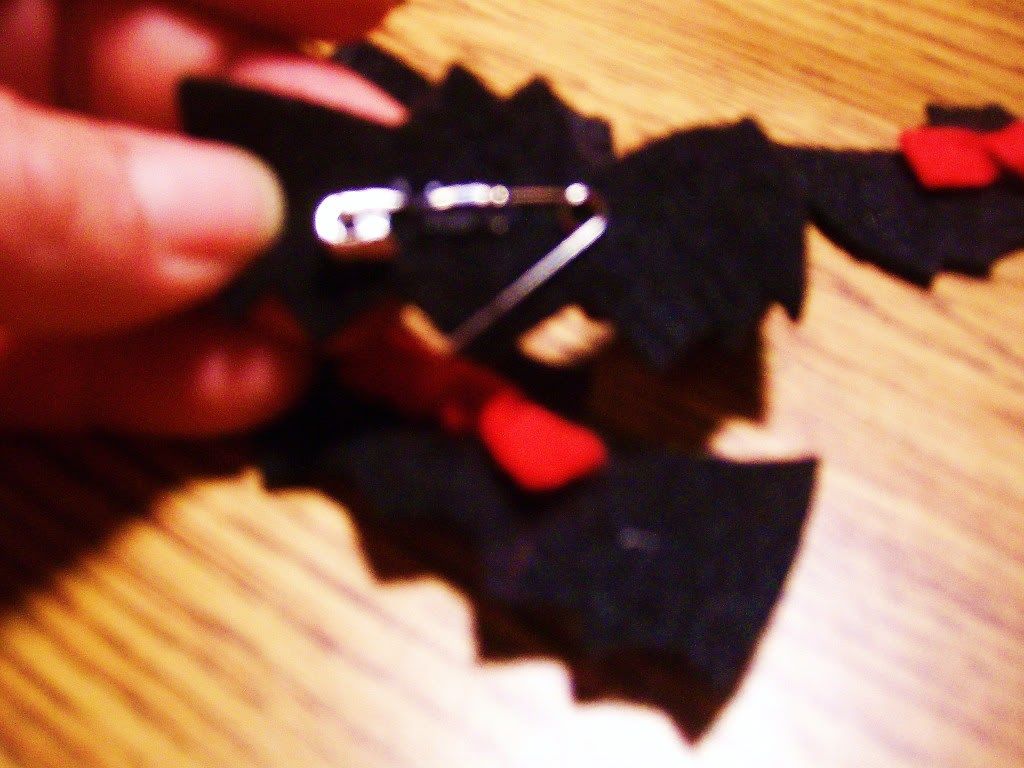 at this point once the glue has cooled or dried whichever the case may be you will give it eyes I usually paint little white dots for the eyes but you can use googly eyes just glue them on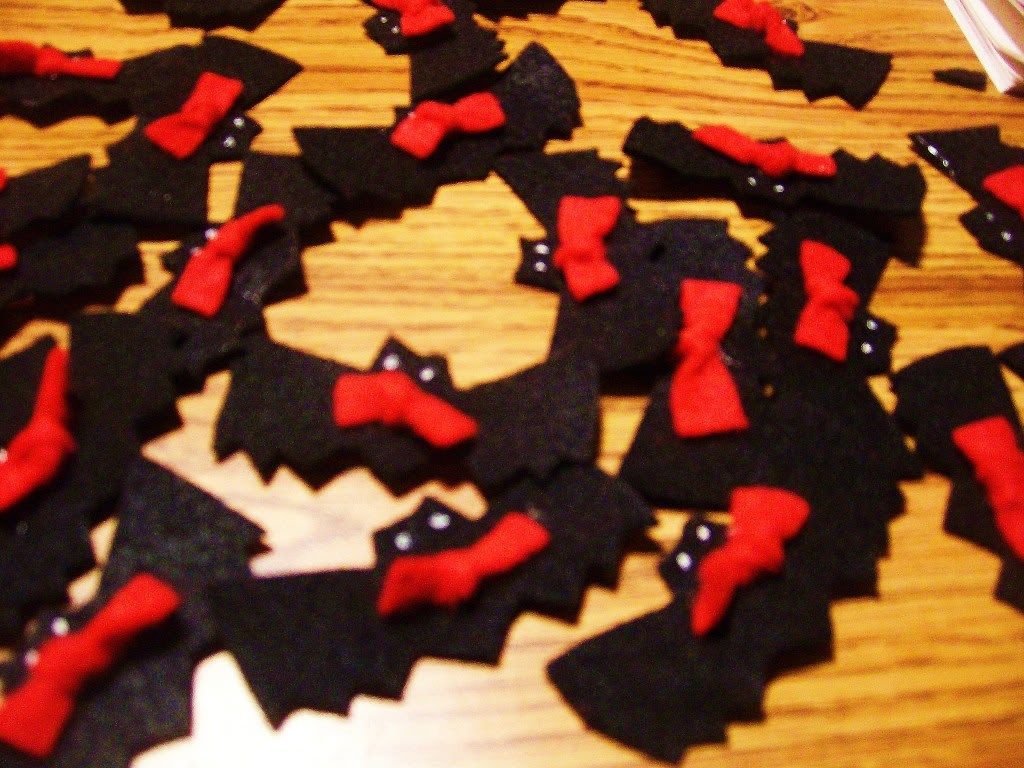 I hope you enjoy your new army of darkness lol
Current Mood:

accomplished